The Dominica Association of Teachers held a special Training Programme for School Representatives from            July 11 – 15, 2022 at Goodwill Primary School Auditorium.
Some of the topics covered were:
* Effective Shop Stewards by Mr. Donald Rolle – President of the Waterfront and Allied Workers Union
* Relevance and Importance of a Trade Union by Mrs. Celia Nicholas – Immediate Past President, Dominica Association of Teachers
* Effective Communication Skills by Mr. Raymond Lawrence – Former Chief Cultural Officer
* Developing Negotiating Skills/Industrial Relations by Miss Isabella Prentice – Principal, Convent High School and Former General Secretary of the Dominica Association of Teachers
* Stress Management by Mr. Thomas Holmes – Former Guidance Counsellor with the Ministry of Education in Dominica and Social Activist.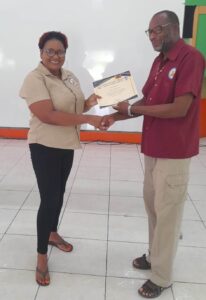 The Workshop which was funded by the Canadian Teachers Federation (CTF), replaced the annual Summer Institute. The Summer Institute is expected to return in 2023.